Our focus:
Support our clients, in France and internationally, in their strategic evolutions and projects in a world facing the challenges of energy transition, climate change and resource scarcity and opportunities for energy liberalisation and the development of new uses and technologies related to energy and mobility (electric mobility, self-consumption, temperate water loop).
Our team:
The strategic consulting team is a collective of consultants working for an engineering group with more than 85 years of experience supporting companies, communities, financial players and having top-level technical, economic and financial expertise in 60 professions related to energy transition and environmental issues and building, soil, subsoil and infrastructure stakes.
It is by constituting a team that brings into synergy our multidisciplinary consultants and our sector experts, that we can offer consultancy adapted and scalable to the multifaceted demands of our customers, in an economy with increasingly shortened cycles.
Your needs: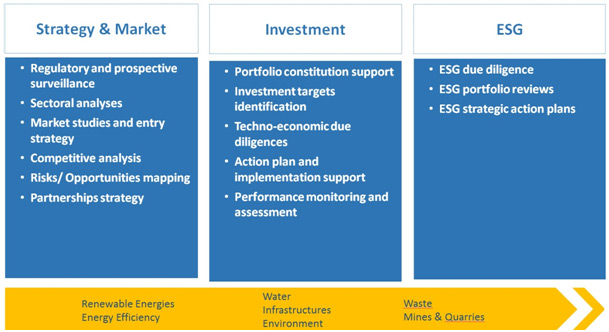 Our recent missions include for example:
Energy and carbon strategy for a real estate operator
African market analysis for an industrialist in the field of biogas
PV kit investing fund strategy
Integration analysis of a hydrogen-based storage solution in the building
Fund investment lines ESG performance
Your field:
In strategic consulting field, our clients come from the sectors illustrated below : investment funds, industrials, real estate players and local authorities.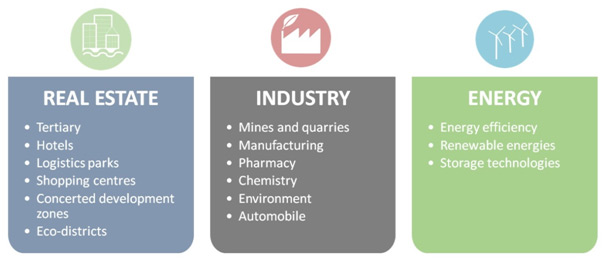 Africa:
With its lasting presence in Africa since 1945, its subsidiaries and GROUP project offices, our team is set oneself apart by its strong capacity for intervention throughout Africa and a good knowledge of local economies issues.