BURGEAP has been present internationally since its creation. It carries out more than 10% of its activity abroad. BURGEAP intervenes for its customers all around the world on all of its businesses, following 3 vectors:
The activity of its subsidiaries and those of Ginger Group in particular : Europe, Morocco, Ivory Coast, China, India, nearby our offices throughout the French overseas departments and territories.
Responding to requests from its French and international clients for projects around the world where BURGEAP has strong expertise in various areas with seasoned experts and a network of local partners. BURGEAP is referenced as world partner for major public and private donors.
Public development aid and infrastructure financing projects, particularly in Africa.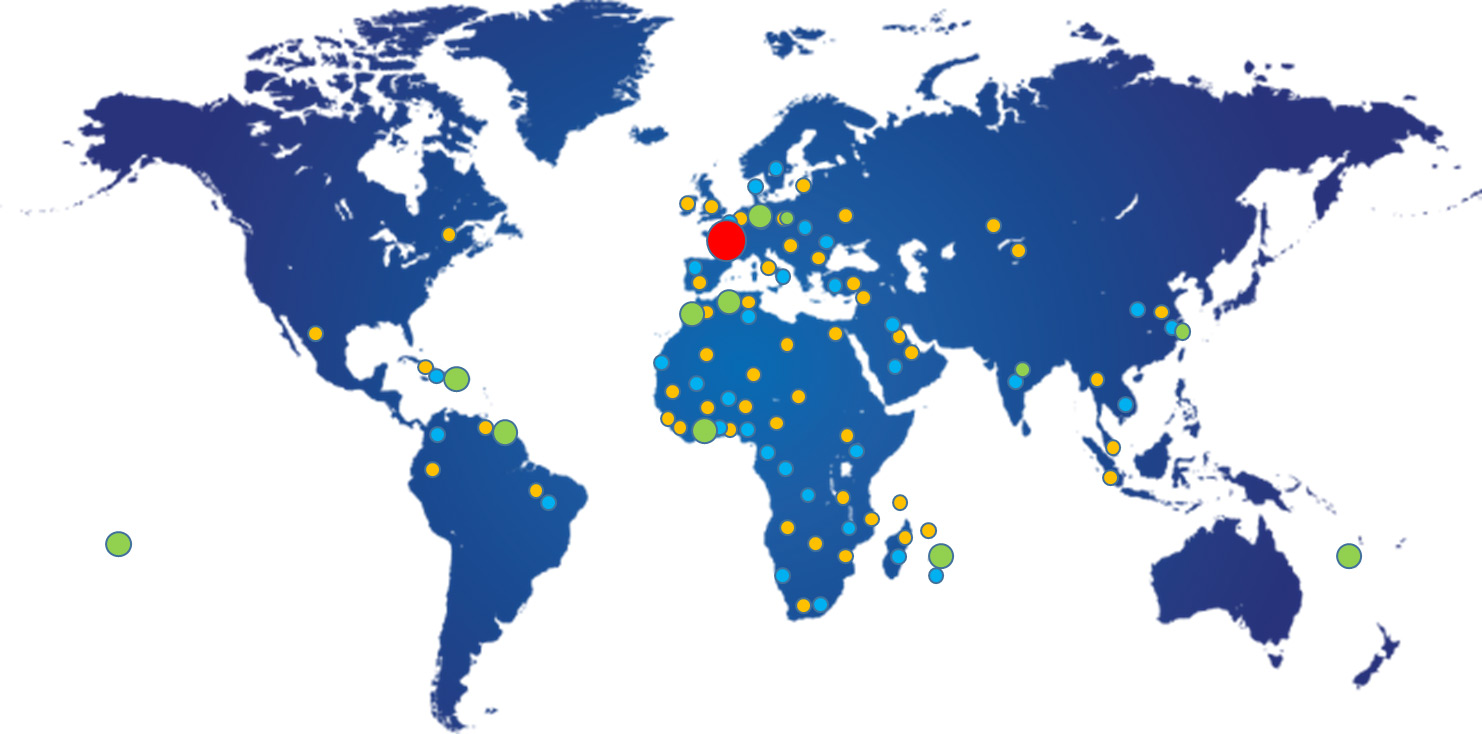 Although BURGEAP is internationally involved in all its businesses, we have particularly developed a strong expertise on the following topics.
Energy and climate change sector:
Renewable energy projects development and financing:
Assistance to project holders and public and private investors for the implementation of renewable energy projects. Since 2011, for example, BURGEAP has supported AFD on SUNREF credit line programs in East Africa (Kenya, Uganda, Tanzania), but also West Africa, Cameroon, South Africa and Indonesia.
Decentralised/ off-grid rural electrification:
Policies definition, socio-economic studies, technical studies, operation and equipment maintenance schemes definition, business plan development, financial engineering, technical assistance, works control, project monitoring and assessment.
Electrification projects development:
Electrical Sector Analysis, Electrification Master Plan, Investment Planning Studies, Technical, economic and financial feasibility studies for energy efficiency and renewable energy projects, Public Private Partnership operation schemes definition. In 2017 BURGEAP carried out a detailed study of concessions in Benin and the study of a regional master plan in South Mauritania in 2018 resulting in 15 concessions supplied by solar-diesel hybrid power plant.
Energy efficiency policies definition:
Climate plans at territorial level, definition and implementation of global, regional or sectoral indicators. In 2016 and 2017, BURGEAP accompanied the ANME of Tunsia for the implementation of an energy efficiency strategy to reduce GHG emissions of all Tunisian cement plants, on GIZ funds.
Project design and identification, feasibility studies to highlight a project's economic and financial profitability, contract negotiation support, project implementation.
Economic tools development ( pricing, taxes, financial incentives for operators and users):
Definition and implementation of financial tools for the promotion of energy efficiency and renewable energies (biomass, solar, wind, geothermal energy), techno-economic feasibility studies, financial engineering, semi-public companies.
Waste and water sector:
Access to drinking water: rural and semi-urban hydraulics, water distribution networks, etc. as the rural water sustainability supply plan in Gabon.
Water resources: governance issues intoaccountis a major concern for all projectstakeholders. Thanks to water resources integrated management and protection, warning systems development, groundwater artificial recharge, watershed management, etc.
Waste and Sanitation: waste treatment centreschoice and design (urban, industrial or hospital), waste collection organisation, treatment and disposal services, energy recovery. BURGEAP has recently completed Casablanca city – Morocco and Ogun region – Nigeria master plan and a landfill detailed study in Cap Haïtien – Haiti.
BURGEAP supports its clients, in France and abroad, in their strategic evolutions and their projects in a world confronted with energy transition challenges, constraints induced by climate change and resources scarcity and the opportunities of energy liberalisation and the development of new uses and technologies related to energy and mobility (electric mobility, self-consumption, temperate water loop).
more info
Donors
BURGEAP has long-standing experience with the French Development Agency (AFD), the World Bank, the African Development Bank, the Asian Development Bank, the European Development Fund and the Inter-American Development Bank. BURGEAP is especially the consulting company on the CICLIA framework contract of AFD and for the European Union on the projects against climate change in African cities.
BURGEAP assists its clients worldwide as part of a sale transaction or assets acquisition to carry out due diligence missions
more info
Impact studies: ESIA
Takingenvironmental, social and its strong operational and regulatory knowledge of ESIA projects and its total independence, BURGEAP intervenes for investors, donors or local stakeholders, for example for the 3rd Abidjan bridge, two dams in Ivory Coast or solar power plants and wind turbines in Morocco.